(Wu Zun denies marriage hidden children)
Red Net July 11 (Reporter Zhu Qing six months have passed from Fahrenheit solo, alone break the entertainment Chun July 11 debut for the new play Changsha <<Sunshine Angel>> Hunan Satellite TV broadcasting in the rally. Compared to early together with the group several times before the appearance, Wu Zun a lot of words seem rich for previously been married and came to 退出娱乐圈 inherited his father, Wu Zun to accept Red Net
Entertainment
interview denied all rumors and said while he Fahrenheit also revealed that miss the same stage show time: 'The only company now needs to be cooperation between the communication would be more complicated.
Family: to take over the family business does not consider 退出娱乐圈
In the idol drama, the wealthy son of Wu Chun and very deep roots, <<the sun angel>>, he also played more than gold men again in life, Wu Zun family called the richest man in Brunei, a prominent family background involved in various fields, Chuang entertainment purely personal interests. media said earlier there, leave Fahrenheit Wu Zun will gradually 退出娱乐圈, should inherit the family business his father asked for his family, does not deny that Wu Zun rich: 'My family is pretty good I am also very pleased to grow up in this environment. '
But for the 退出娱乐圈 inherit his father, Wu Zun immediately denied: 'That's all hearsay, I have not thought about this matter, in the first half did not take too much work is to have more time with his family, but in the second half are have a full file. 'Chun also said that advanced age of the father does not interfere for their own career:' I do not object to his artists, just worry about my
Health
as his father, he wanted me to help him career, I have to go earlier to help, but I have my own things, not always at his side. My father is a very devoted person, he can take care of himself.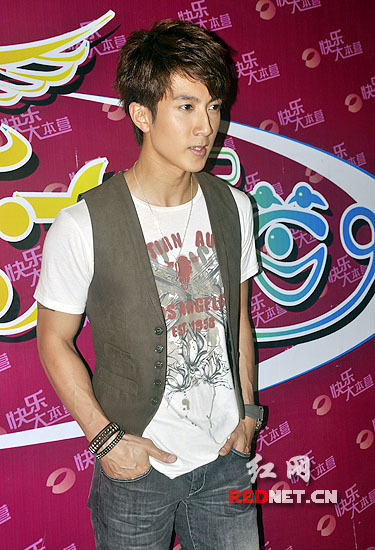 (Solo Wu Zun look a lot thinner)
Feelings: 'son' was exposed three years ago
Has been considered a thirty year old Wu Zun on the older boys, emotional problems become the focus in recent days, there broke the news media in Taiwan have a perfect appearance, he had long been married and have two children, the talk about feelings, Wu Zun immediately Renxiao more than: 'Taiwan media reported that two children photographed as early as three years ago have, for which I personally feel there is not much, but the company has to find a lawyer does not want to stop these false reports. '
Has been insulated with the scandal, Wu Zun respect very strong desire for the family, and that this is the best part of life: 'But can revel, not force.' He smiled and said, as far away as Brunei's father for his feeling very anxious: 'My father will be looking forward to when I get married, have children, I also understand that if I were Dad, I will be anxious child's feelings, but only go with the flow.'
Solo: do not resist the occasional cooperation with the members of Fahrenheit
From the debut so far, is no stranger to Wu Zun for Changsha, however, is a singer more than the earlier sea combined with the flywheel promote the new album, this is the first appearance in a personal capacity. Solo has a few months, the appearance of the Wu Zun from time to time with the actors to define the current status for solo career plan, will be video-based Wu Zun admitted: 'The actors are the main part, the main focus will be in here. singing, unclear, and the flywheel co-members of the sea for so long, and occasionally will still work together. '
For many years the military has become a combination of solo Wu Zun said that does not affect the feelings: 'In fact, before our group is four of their filming, made music together, and now is no different.' But not to renew his former club, he also admitted and the other members of the co-operation than before the troubles of many: 'I will miss the four living together, kind of miss the feeling of performing with the present record whether the issue has not thought of together, but if the opportunity to perform together, I am willing, but the company and something of a convergence of communication, would be more complicated. '
Source: RedNet